It is not just the wheels and the cogs, nor a sum of every part the brand designs, crafts, polishes and assembles with exquisite skill and constant care. It is all of these, and more. It is the time taken, the skills of many. A demanding, rigorous and perpetual endeavour. In short, it is the quest for excellence.
This 'superlative' approach is expressed through eight fundamental qualities that characterise every Rolex watch: precision, waterproofness, autonomy, robustness, simplicity, craftsmanship, comfort and durability. Thus, when Rolex prints "superlative" on the dial of each watch that leaves the workshops, it marks the epitome of the entire watchmaking process.
Rolex's status and identity are products of a history driven by a passion for innovation and a constant quest for excellence. We explore the genesis of how Rolex has come to be a defining standard in and of itself.
---

---

Related
Rolex: A Mastery of Manufacture, A Perpetual Pursuit of Excellence
By keeping the entire production process in-house, this legendary watchmaker ensures perpetual perfection across each individual component of its timepieces.: Read Story

---

---
A Rich History
First established in Britain in 1905, officially registered in Switzerland in 1908, the success of Rolex is inextricably linked to the spirit of enterprise of its founder, Hans Wilsdorf (1881-1960).
Through his visionary genius, his adeptness in all fields related to a watch brand's development – technology, communication, organization and distribution – and as the head of the company for more than 50 years, Hans Wilsdorf set the course for an adventure which has given rise to exceptional watches and an unparalleled brand.
Today, his personality and his work continue to inspire the company and permeate its corporate culture. The entrepreneur's influence is also evident in the aesthetics and principal characteristics of the watches that remain faithful to the original Oyster – the world's first waterproof wristwatch, launched in 1926 – as well as in Rolex's ability to draw on its prodigious heritage to continuously advance towards new horizons.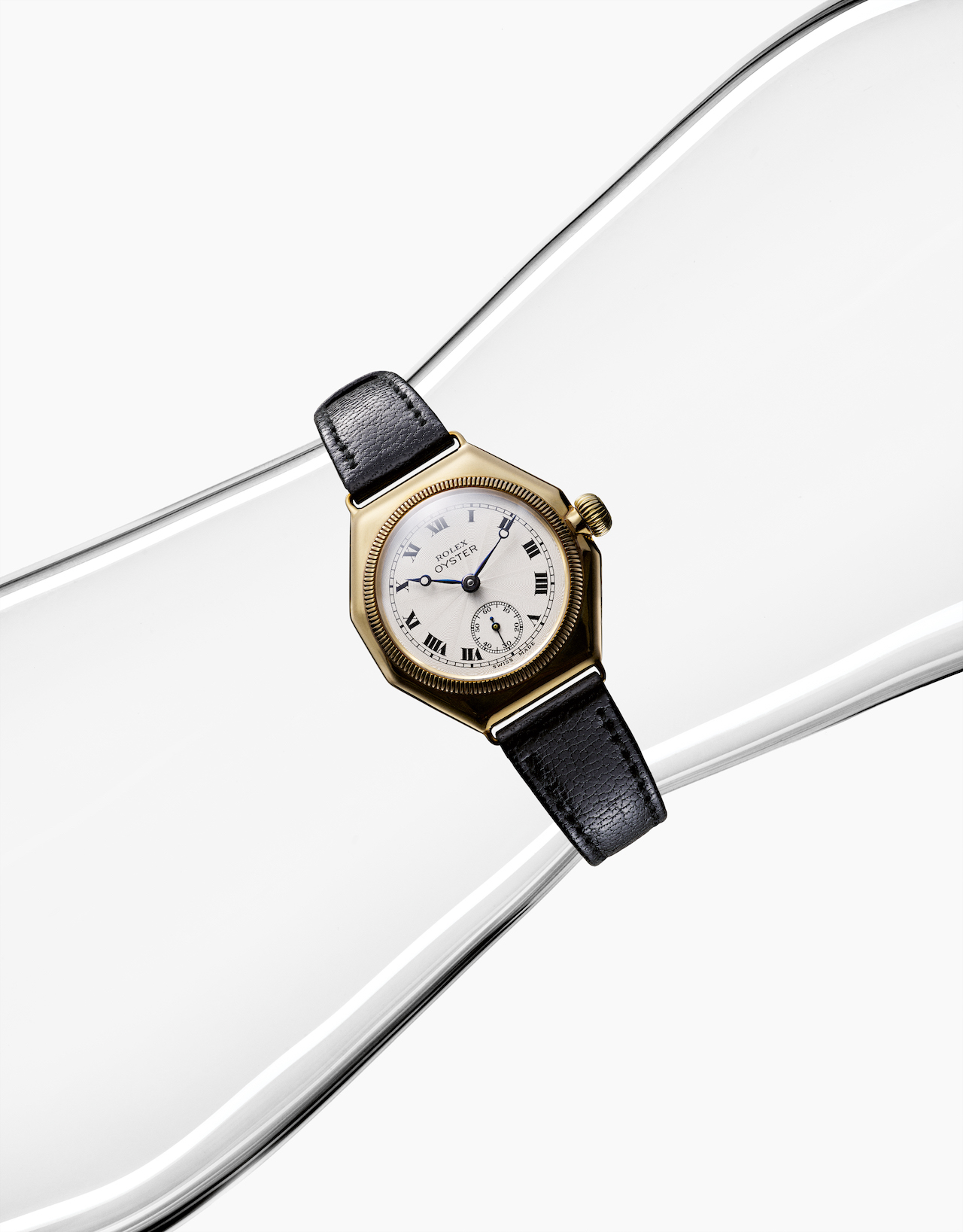 One of Rolex's first Oyster watches – in a version with an eight-sided case, 1926. Source: Rolex
In the 1940s and 1950s, Rolex created watches that would very rapidly become timeless classics of the Oyster Perpetual collection. The year 1945 saw the launch of the Oyster Perpetual Datejust, the first self-winding waterproof chronometer wristwatch to indicate the date in a window on the dial. A watch of great distinction, equipped with a specially created Jubilee bracelet and consolidating all the innovations that Rolex had developed until then, it was considered by Hans Wilsdorf to be a masterpiece.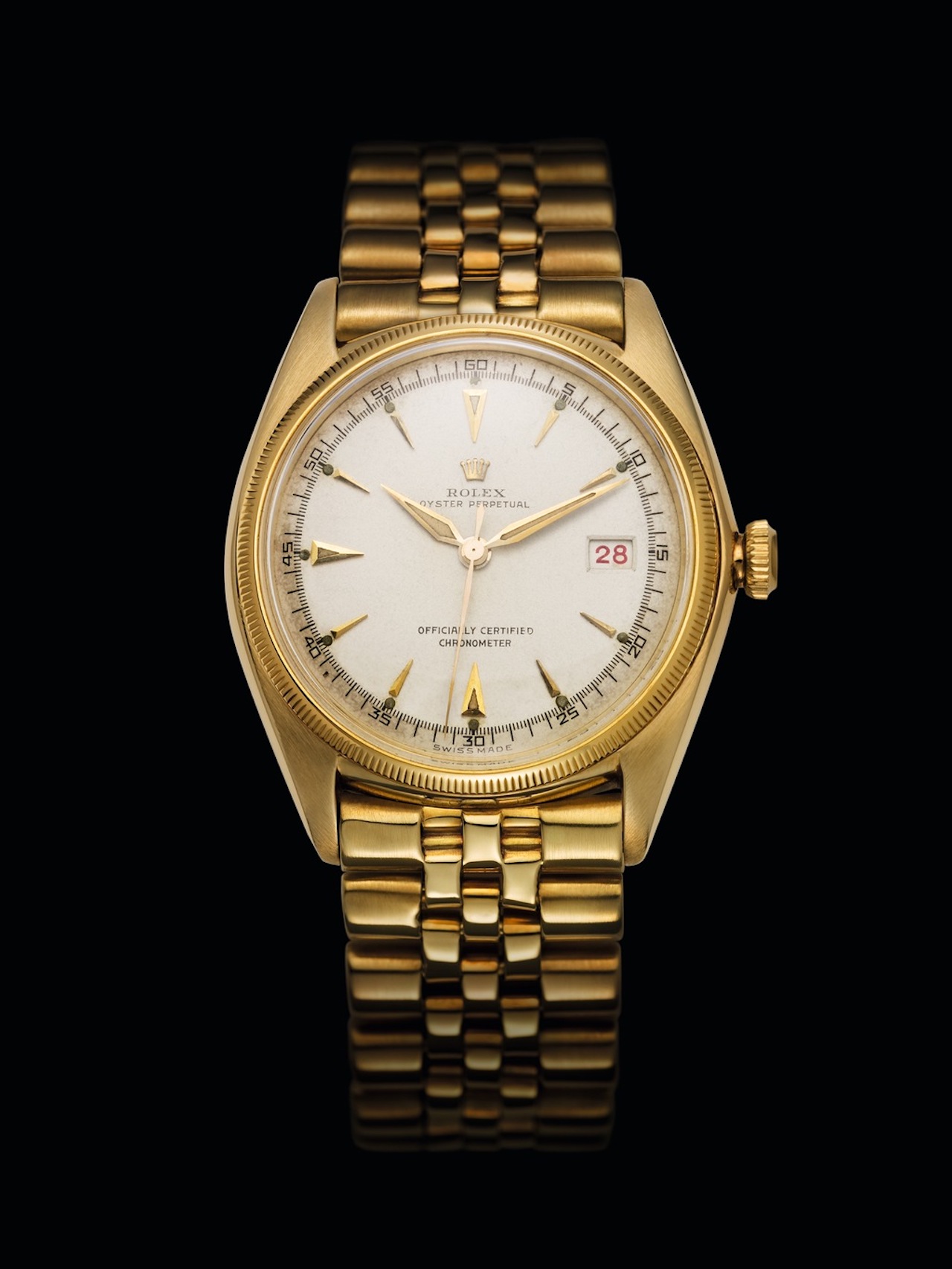 The first Oyster Perpetual Datejust in 1945. Source: Rolex
Initially designed for men, various versions became available for women in the course of the following decade, one of which was the Lady-Datejust (1957). 
---

---

Related
The Ultimate Classic Timepiece for Women across Generations -
The Rolex Oyster Perpetual Lady-Datejust
Exploring the origin, evolution and storied history behind this superlative ladies' timepiece: Read Story

---

---
In 1956 the Oyster Perpetual Day-Date made its debut. It was the first calendar wristwatch to display, in addition to the date, the day of the week spelt out in full in a window on the dial. Made only from 18 ct gold or 950 platinum, its crystal featured a Cyclops lens for easy reading of the date. This innovation, another Rolex mark of distinction, was later extended to other models in the Oyster Perpetual collection that displayed the date.
Worn by many of the world's political figures, directors and visionaries, the Day-Date is instantly recognizable, in particular thanks to its emblematic President bracelet, which was created specially for the watch.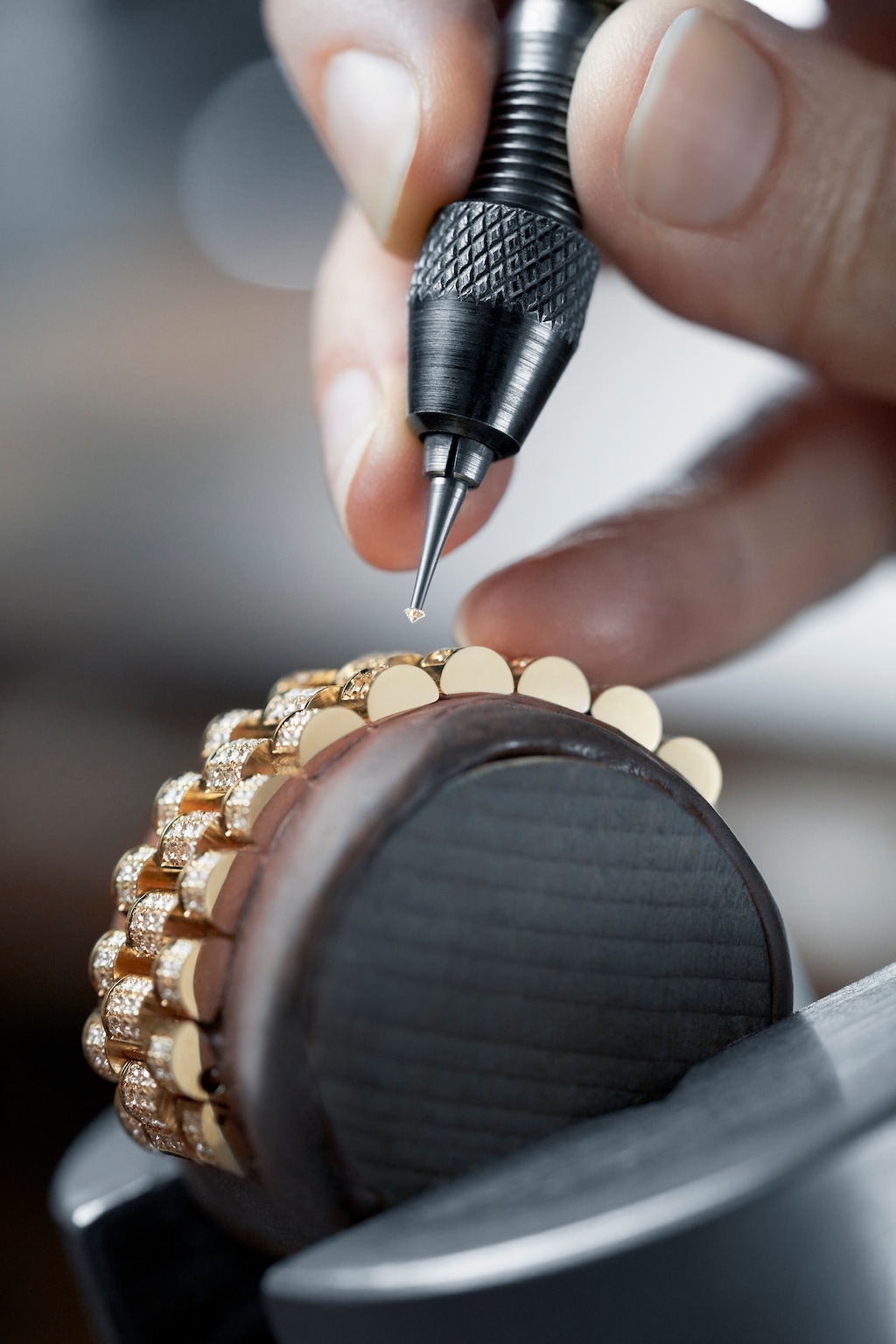 Gem-setting of a President bracelet in 18 ct yellow gold. Source: Rolex
---

---

Related
The Magic of Gemstones: Rolex Gemmology and Gem-setting
The unparalleled skills of Rolex's gemmologists and gem-setters are illustrated in the wide array of gem-set timepieces in several of the watchmaker's latest models.: Read Story

---

---
As part of the close relationship with the world around us and the emergence of new areas of endeavour such as civil aviation and underwater exploration, in the 1950s Rolex developed 'Professional' tool-watches. These timepieces featured particularly useful characteristics or functions for activities in demanding and often extreme environments that required robust and reliable equipment.
By designing timepieces for particular purposes, Rolex creates watches of singular aesthetic purity.
Uncompromising Construction & Craftsmanship
Rolex is renowned for its painstaking craftsmanship and dedication to in-house manufacturing. Each Rolex watch is hand-assembled by skilled watchmakers, gem-setters and artisans, with the utmost attention to detail. Punctilious testing and the exercise of stringent quality control ensures that every component, from the movement to the case and bracelet, meets the brand's exacting standards and has been rigorously checked for reliability and aesthetic purity.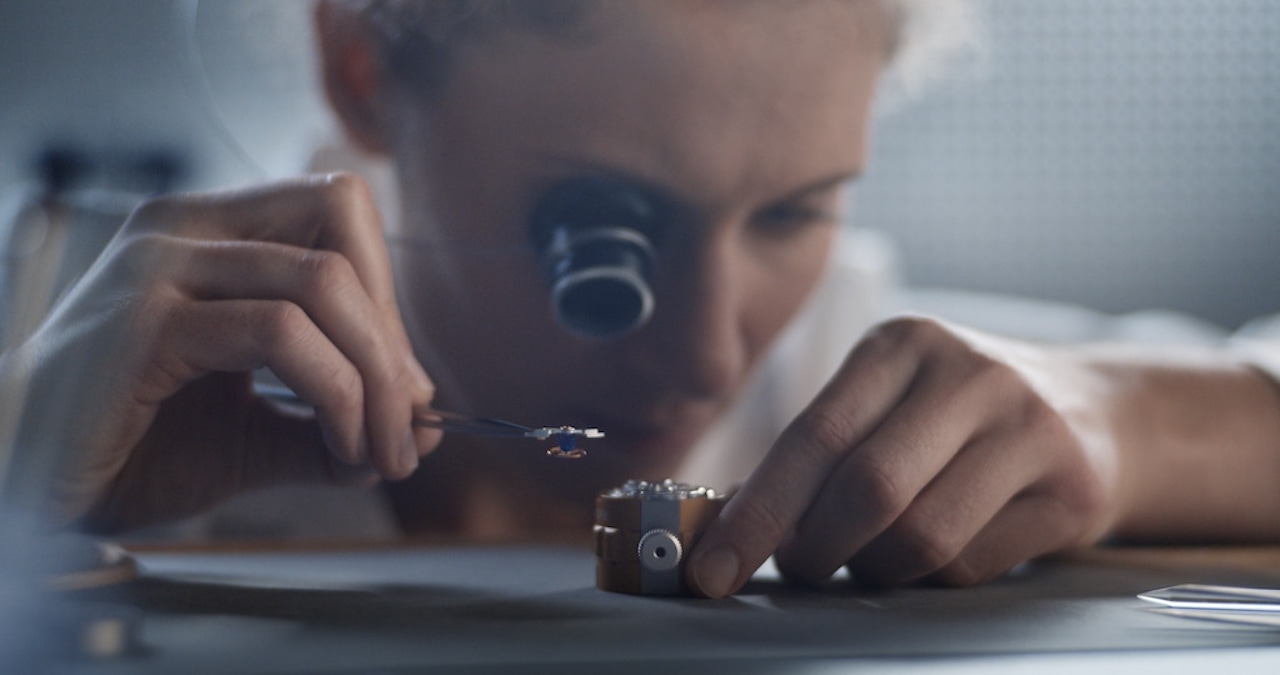 Assembly of a Rolex movement by hand. Source: Rolex
Rolex manufactures many of its components in-house, and this vertical integration allows the company to maintain strict control over the quality of its watches. In no small part for this reason, Rolex watches are renowned for their durability and longevity. Designed to be passed down from generation to generation, these watches are built to last, constructed in the toughest materials.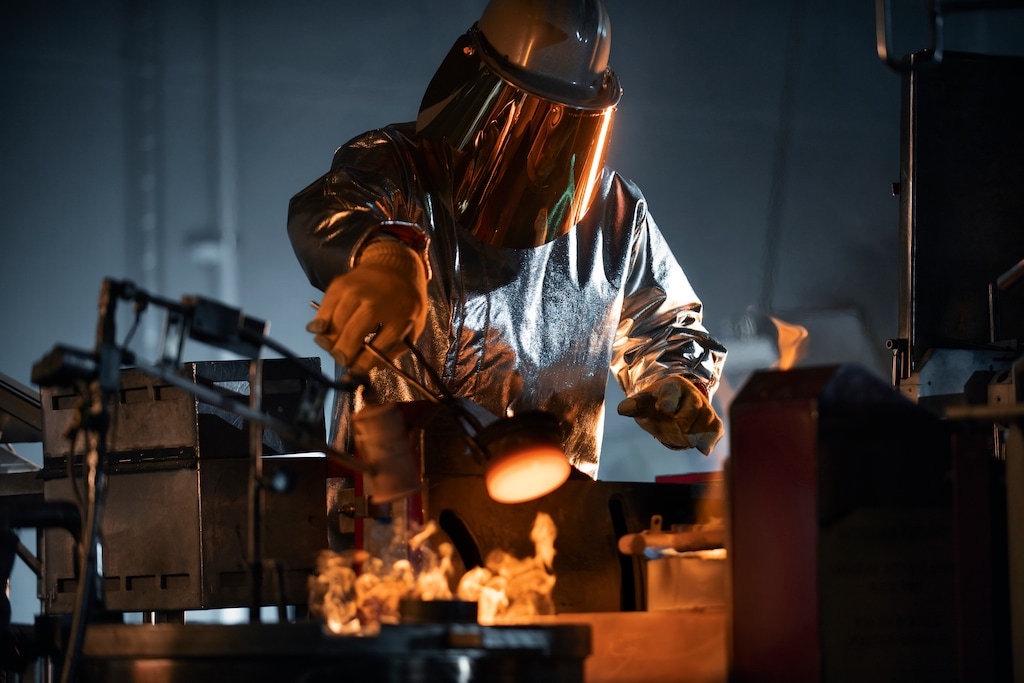 In-house casting of 18 ct gold alloys used in the manufacture of Rolex watches. Source: Rolex
---

---

Related
Rolex, The Master of Foundry: Uncovering the Source of the Shine
By setting up its own state-of-the-art foundry where it casts its gold, Rolex is able to consistently ensure the superlative quality of its most precious materials.: Read Story

---

---
The company's proprietary 904L stainless steel, dubbed Oystersteel, offers outstanding corrosion, scratch and pitting resistance, while its pink gold alloy Everose resists staining, tarnishing and fading. Smelting of the yellow, white and Everose gold used in Rolex timepieces is conducted at the company's own foundry in Geneva, allowing an unmatched degree of control over the composition of these precious metals.
Perpetual Innovation & Precision
Like its cases and bracelets, Rolex's innovative movements are fully developed and produced internally. Inside and out, the manufacture invests immense effort and resources into enhancing and constantly improving the performance of its watches. Its horologists and engineers are responsible for numerous industry breakthroughs, spanning every aspect of a watch's anatomy, from cases to bracelets and movements.
These advances include dive-watch game-changers such as the Twinlock and Triplock screw-down crown, and the helium escape valve; the Glidelock clasp, offering the ability to easily make small adjustments to bracelet size; the Chronergy escapement, which improves movement efficiency by 15 percent; and the Parachrom hairspring, which boosts the watch's resistance to magnetic fields and shocks.
As the 'Superlative Chronometer Officially Certified' signature suggests, Rolex prides itself on exceptional precision, guaranteed. Movements are first certified over a 15-day period by the independent Swiss Official Chronometer Testing Institute (COSC), ensuring they meet strict accuracy standards, before the assembled watches are again subjected to a battery of tests in-house.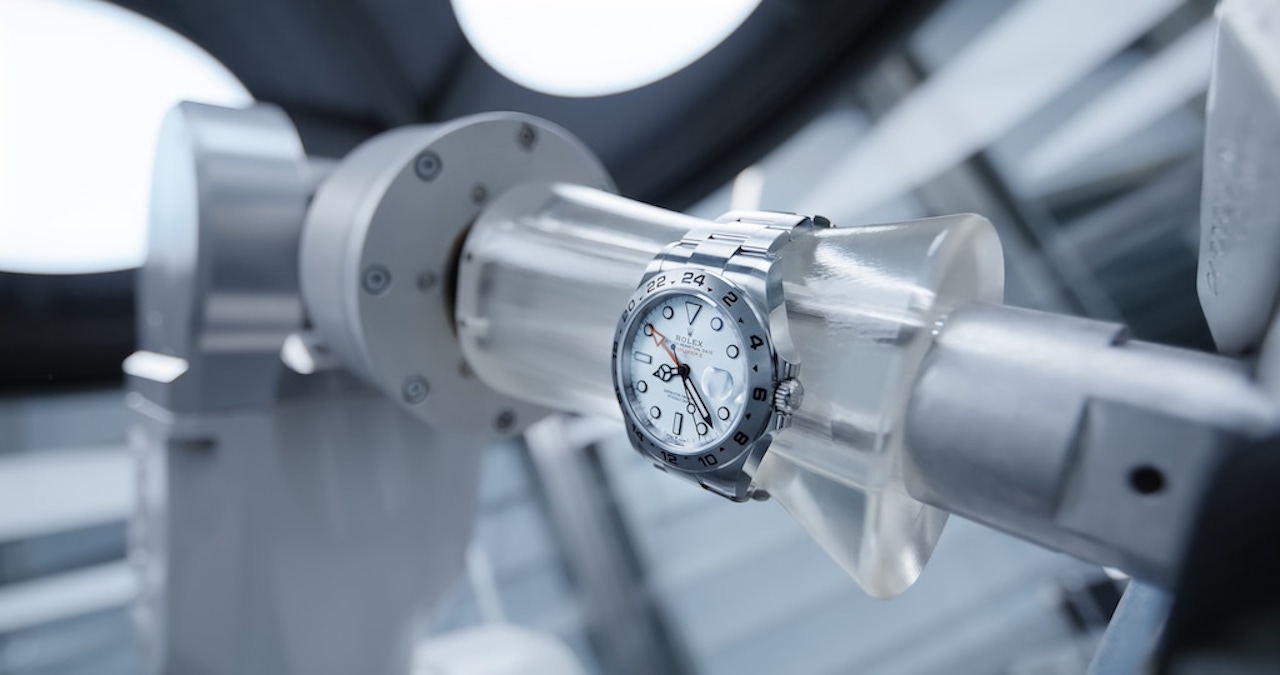 Watch in the testing stage during the research and development process. Source: Rolex
After initial assessments, including visual checks for defects and proper sealing, Rolex puts its watches through an air pressure test. Then, they immerse the timepieces in hyberbaric tanks, simulating conditions exceeding each model's rated waterproof depth. Watches with helium escape valves, like the Oyster Perpetual Rolex Deepsea, are tested to ensure safe helium release.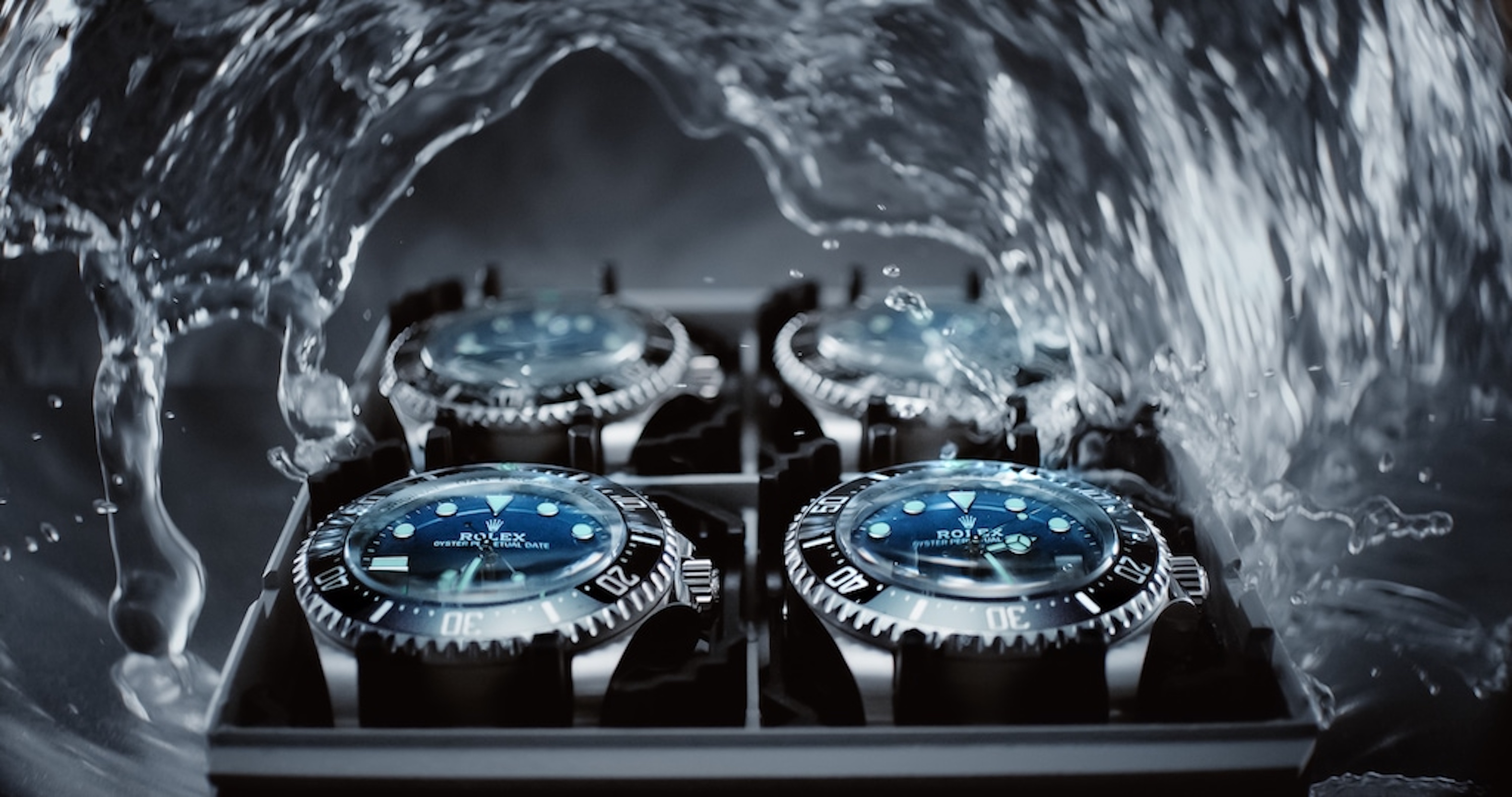 The waterproofness of each finished watch is tested in a hyperbaric tank. Source: Rolex

Rolex also checks power reserve, bracelets and clasps, and assesses shock, temperature and magnetic field resistance. Timekeeping accuracy is keenly evaluated, of course. In one of the final stages of assessment, watches are grouped in sets of ten for a day-long accuracy test. Photos are taken before and after 24-hour period, the photos compared, and any misaligned hand positions result in fine-tuning.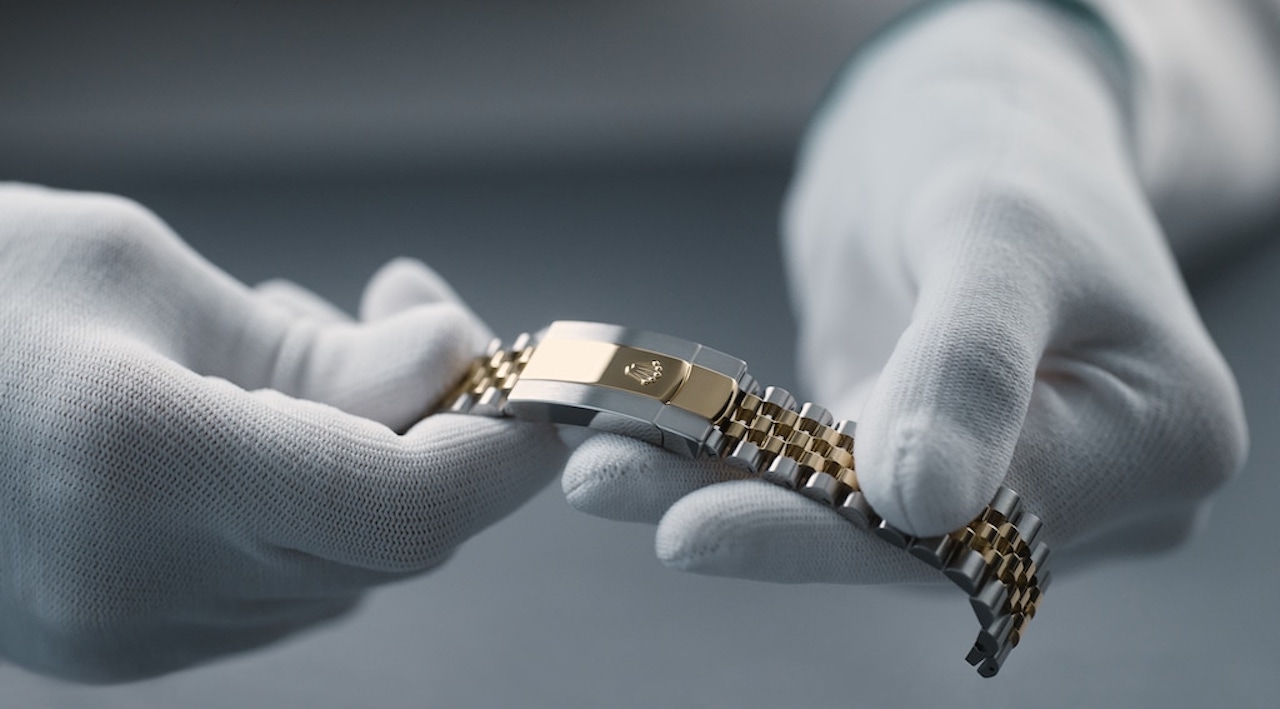 Aesthetic check of a Jubilee bracelet. Source: Rolex
Only after successfully passing these myriad stringent tests and evaluations, plus a final visual check, is a Rolex timepiece qualified to carry the watchmaker's green seal, and leaves its workshops.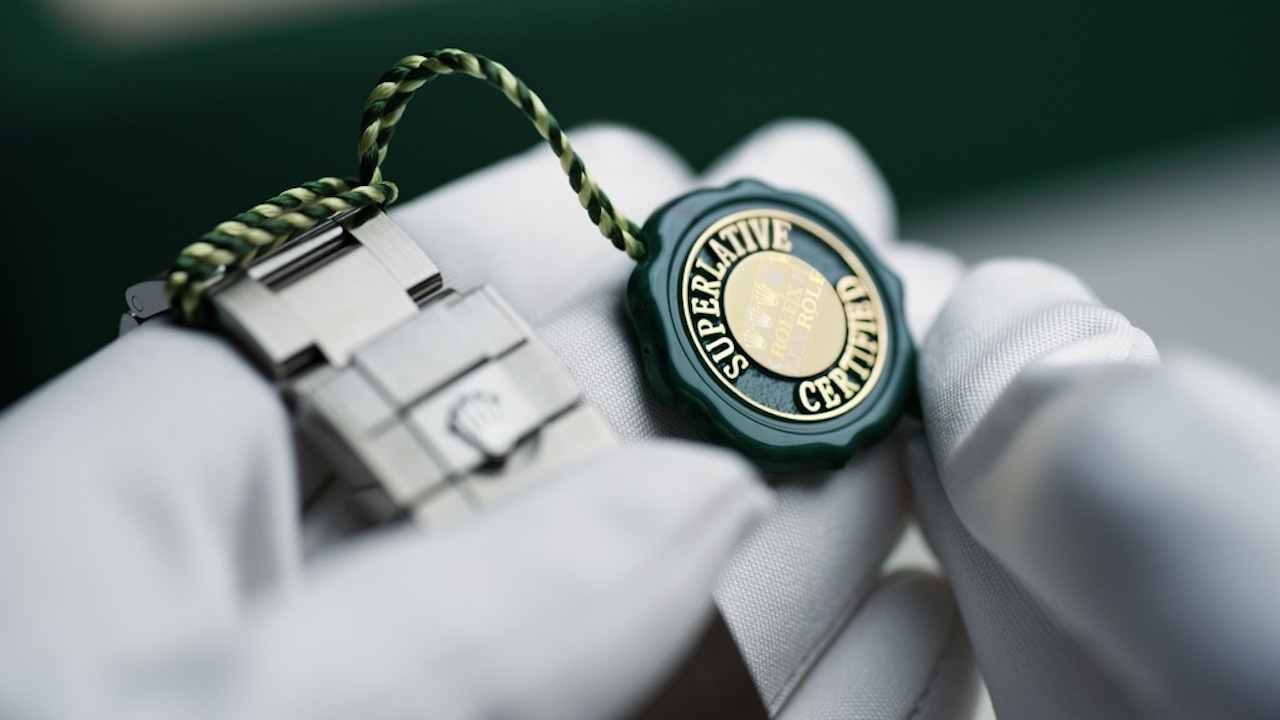 Each watch certified as a Superlative Chronometer comes with Rolex's green seal. Source: Rolex
The 'Superlative' signature, which appears today on the dials of Rolex watches, is much more than a promise of quality and reliability.  It is also a mindset that permeates every department of the company and drives every individual working for Rolex, whatever their role.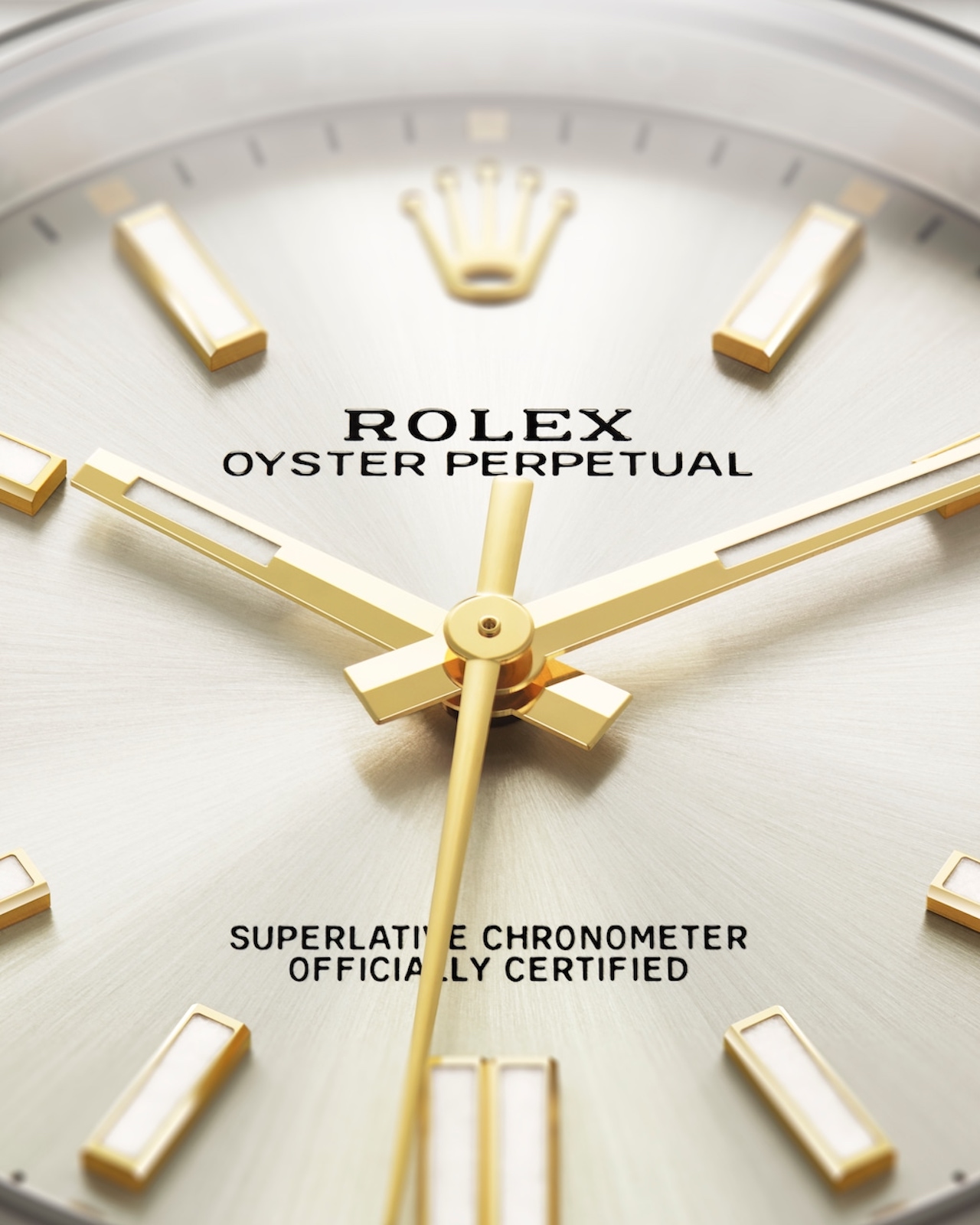 Each Rolex watch is distinguished by superlative performance. Source: Rolex
Rolex has always pursued a perpetual quest for excellence, ceaselessly pushing back the technical and technological limits in the production and testing of its watches in order to guarantee their extraordinary performance. This is achieved through industrial and human effort, based on a permanent questioning of what has been learned and the constant improvement of techniques, tools and tests. This innovation is inherent to the brand, as evidenced by the numerous patent applications filed by Rolex since its creation.