By Kien M. Lee
Boy, hasn't time just flown by? You'd never guess but MB&F — the "creative laboratory crafting three-dimensional Horological Machines" that we've become so used to producing the most intriguing novelties — has turned 10 years old this year.
For founder Maximilian Büsser, the maverick who only a decade ago was a suit himself running the watch division for Harry Winston, the progress made by his Geneva-based manufacture, bolstered by a fervent following of customers and fans from all around the world, must surely be both gratifying and re-affirming.
To celebrate the occasion, this week at the 2015 edition of Baselworld, MB&F marks the milestone with the unveiling of an impeccably finished, 480-component mechanical table clock.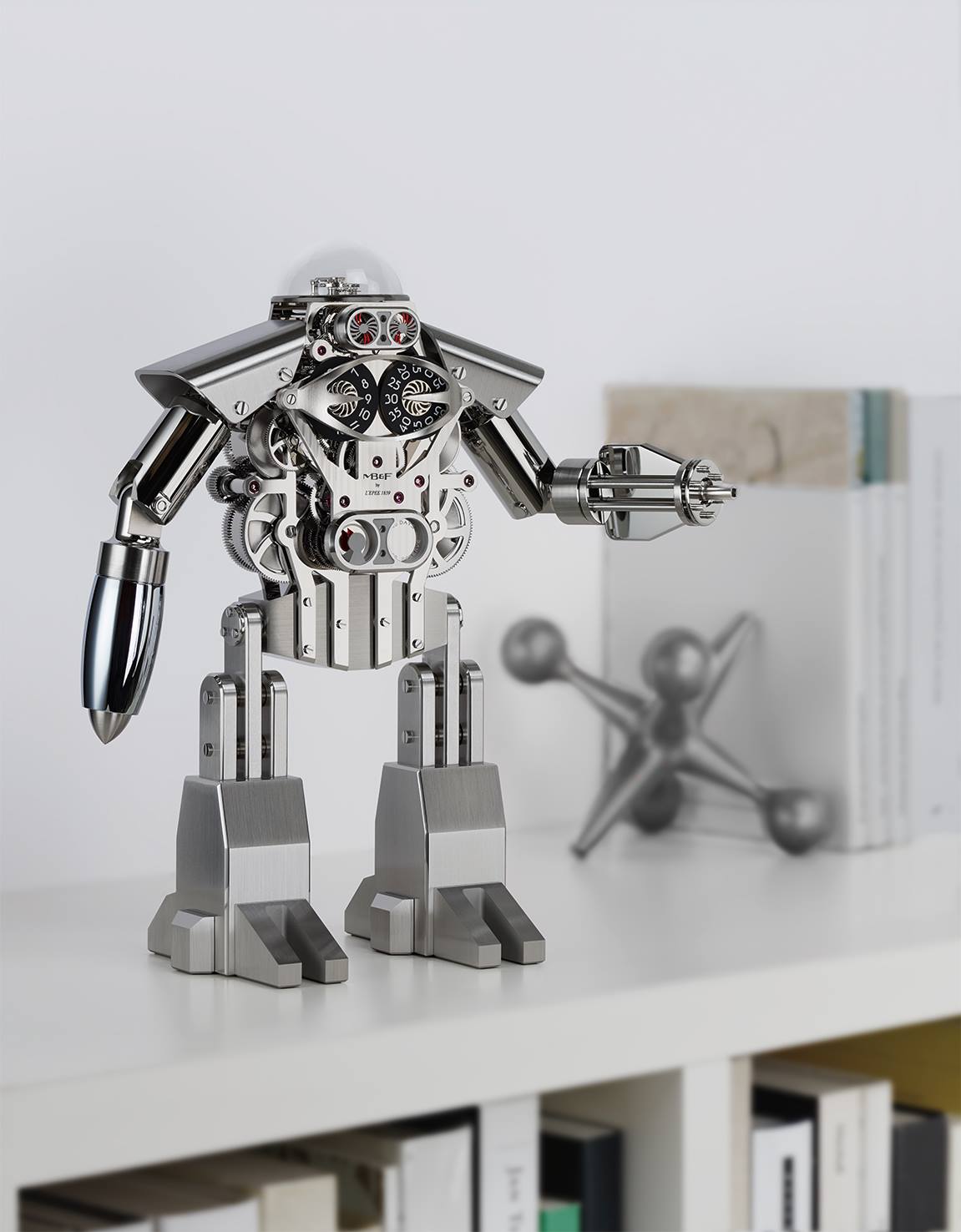 Introducing Melchior, the kinetic robot created by Büsser with L'Epée 1839 (Switzerland's only specialised high-end clock manufacture, with the two having previously also worked together on MB&F's Starfleet Machine) and designer Xin Wang.
On first sight, the roboclock's steel upper arms are able to rotate and his lower arms to pivot up or down, allowing one to position it into a menacing pose to aim the rocket launcher and Gatling gun on each arm. In reality, the left arm detaches and cleverly doubles as the winding/setting key for the movement.
Melchior is the latest manifestation of MB&F's theme of "A creative adult is a child who survived."
This follows in the recent good company of the HM6 Space Pirate (inspired by the Captain Future animated series), the HM5 On the Road Again (inspired by louvred rear window of the Lamborghini Miura and the retro Amida Digitrend watch), the HM4 Thunderbolt (a nod to the Fairchild Republic A-10 Thunderbolt aircraft), the protruding set of "eyes" of the HM3 Frog reincarnated as an owl-like JwlryMachine with Boucheron, a left-handed ReBel, a Moonmachine and a final edition with the night-seeing Megawind, and in a breakaway new line, the round-faced LM1 (which found inspiration from 100 years ago) and its counterpart the LM2 (which went even further back to the 18th century, when three horological grandmasters first worked with dual balance wheels within a timepiece).
All these unique creations are singularly linked by MB&F's approach of combining boundless imagination with horological sophistication and superlative micro-construction.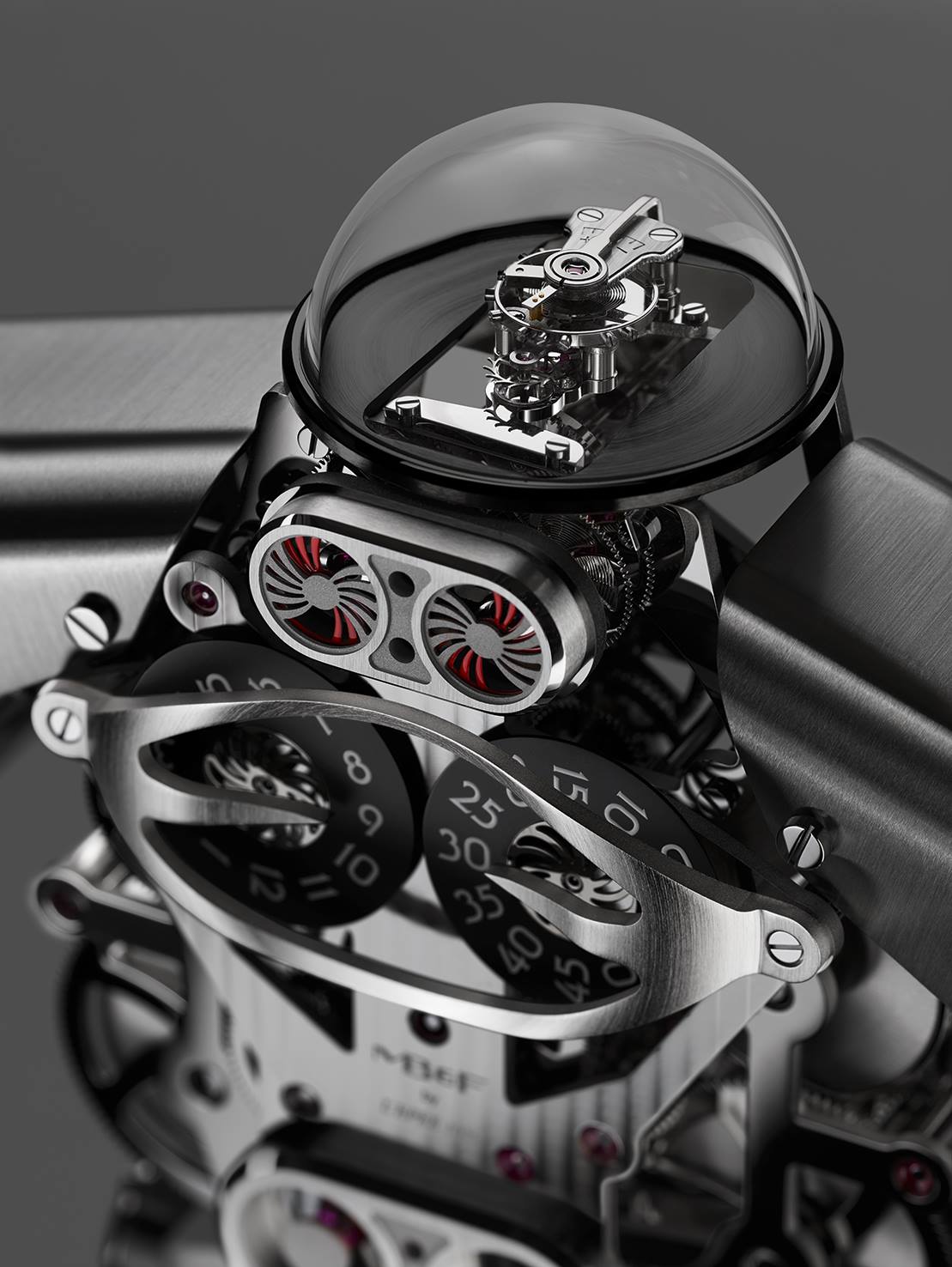 With jumping hours, sweeping minutes, double retrograde seconds eyes and 40-day power reserve, Melchior is a new baby brother worthy of his predecessors. He is a symbolised tribute to the most refined classic clock and watchmaking traditions.
A polished glass dome cover, Melchior's "brain", reveals the clock's regulator sending "synapses" to the rest of its mechanically "body" with remarkable precision, the retrograde action of his "eyes" marks off intervals of 20 seconds, while his "chest plates" each tells the hours and minutes.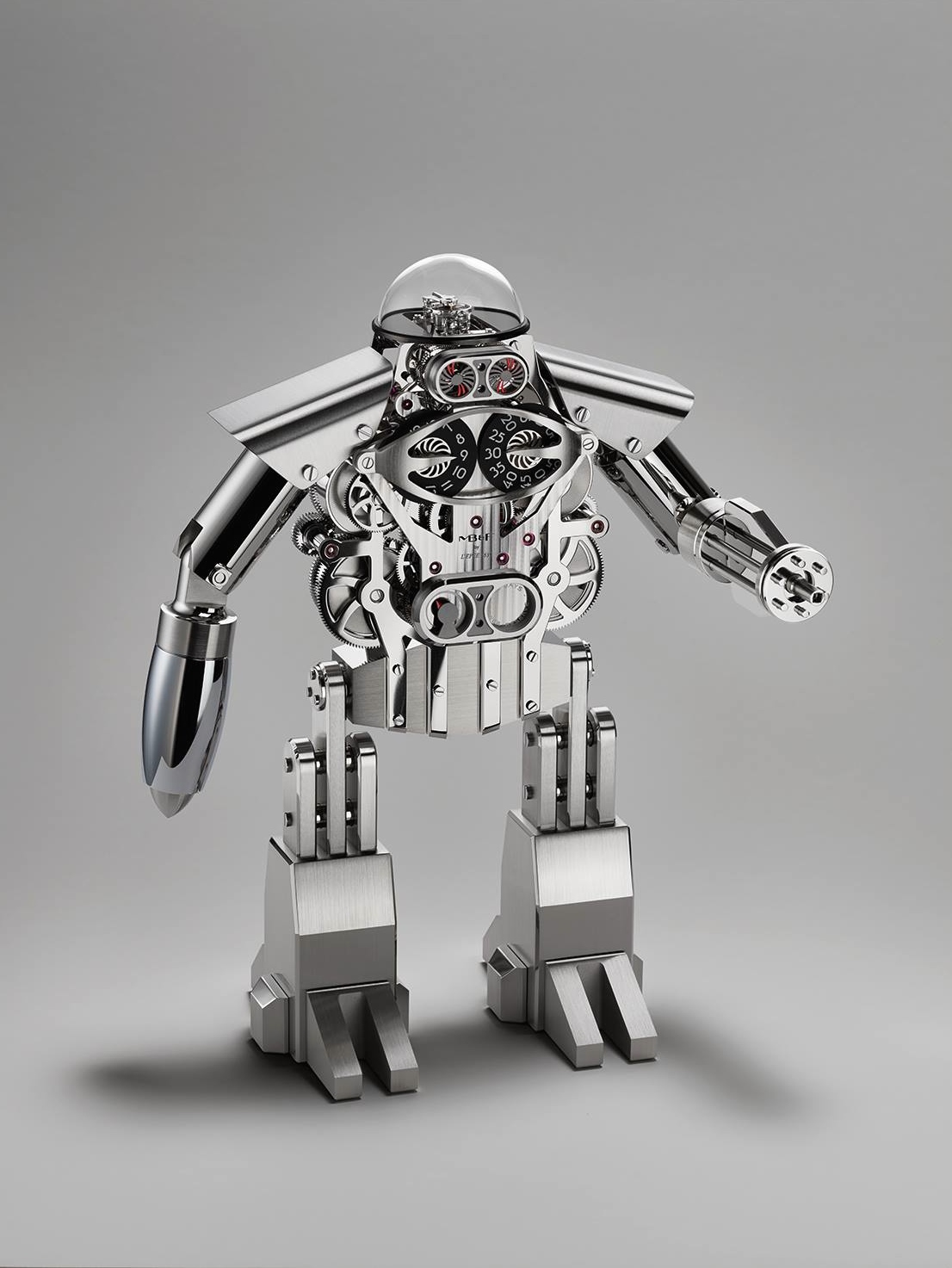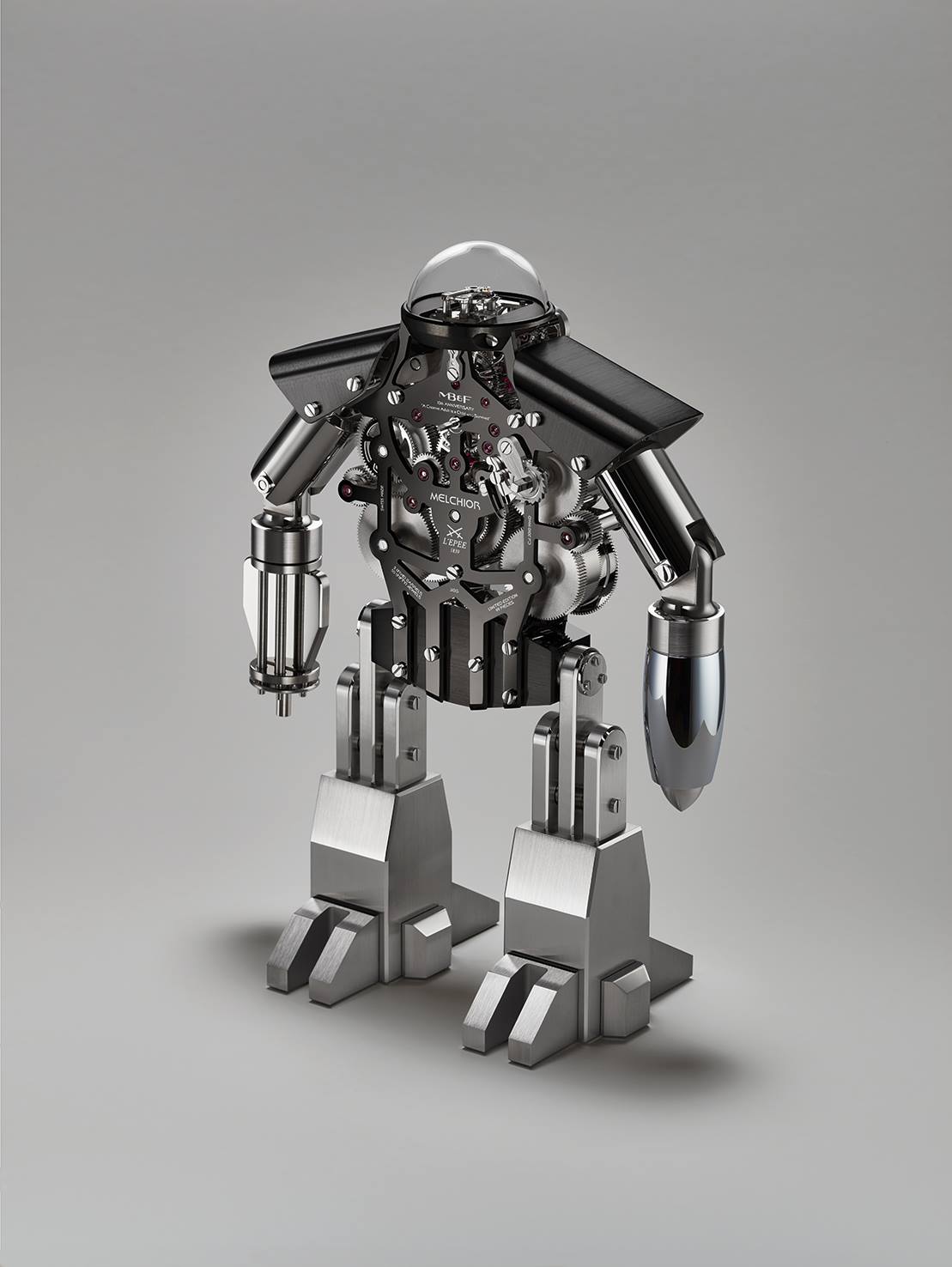 Named after a traditionally-used first name in the Büsser family, Melchior is limited to 99 pieces and is available in a monochromatic 'light' edition or a two-tone 'dark and light' edition featuring black PVD-treated components.